Did you know that sprinting workouts shape a much better lower body than traditional butt and thigh exercises? Have you noticed that the sprinters body almost always has a toned butt and thighs? Lunges, dead lifts, squats, leg extensions, kickbacks, and other rear exercises are typically the norm when wanting to shape the lower body. I am not a big fan of these types of exercises because the lower body has more growth potential than its upper counterpart.  Therefore the inclination to add bulk to the hips, thighs, and butt are more likely than building density. This is why I am a firm believer in directing your efforts into some kind of sprinting workout routine over direct leg work.
Understanding the Gluteal Fold And Why It Pertains To Sprinting
The transition where the butt meets the hamstring is known as the gluteal fold. A person that has a well developed derriere has a very smooth and clean "glute to hamstring" area. What I mean by "clean" is that the butt should not hang over the hamstrings. When the butt is not developed properly or is carrying too much fat, it tends to sag. You can actually perform a little test to see if your backside needs some work. If you can hold a pencil between the hamstring and butt muscles, then you know your backside is under developed.  To describe the ideal butt while staying within the cleanliness of the site, your backside should be round and full but with a natural lift….not saggy. Sprinting does a fantastic job of lifting the butt without adding size which is crucial for a smooth gluteal fold.
Why I like Sprinting Workouts Over Resistance Training For The Lower Body

I talk a lot about lifting heavy weights for low reps for true muscle tone and density. You won't gain size as long as you are stopping short of failure and allowing enough time between sets. This goes for both men and women.  Although this principle is true, you can still add mass to the lower body when lifting in this manner. This is due to the higher growth potential in the legs.  Even with lighter weight, squats and dead lifts engage the butt and thighs to a high degree. These two exercises revolved around "time under tension" and this is where muscle mass can develop. This is why I truly believe that sprinting will sculpt and define a much better lower body than resistance training. Sprinting lifts the butt and tightens the thighs without adding bulk.
Cardio Training: Jogging Doesn't Cut It
Your glutes and legs contract very hard during quick and explosive movements. Jogging doesn't come close enough to provide the same results. Jogging doesn't seem to work the butt very well, but sprints do!  Sprinting in an intense manner for short durations provide a lot of quick and hard contractions in the glutes and hamstrings.  Short and quick contractions are key to firming the rear and thighs without gaining mass.
Sprinting Increases HGH
High intensity exercises like sprinting burns major calories after your workout due to the release of human growth hormone (HGH). The metabolic changes in the body are at its greatest under intense exercise and provide the necessary release of the powerful fat burning hormone. This is not the case in less intense activities. Activities like jogging, walking, or normal weight training don't provide the same benefits. Because of this, you will burn less calories and fat if you don't include intense exercises along with your current workout routines.
HIIT Sprinting Workout Routine On A Treadmill
1) Take a brisk walk on a treadmill for 3-5 minutes to warm up (depending on different treadmills: level 3.0-4.0) 
2) Eventually speed up the treadmill for a good jog for about 1-2 minutes (level: 7.0 – 9.0)  
3) After 1-2 minutes of jogging speed up the treadmill to a light but still tough sprint. You will run in this manner for 30 seconds.
4) Decrease the speed back down to a light jog (level: 7.0-9.0) for 1-2 minutes. If the jog is still a little difficult then decrease the speed even more to catch your breath.
5) After the 1-2 minutes of jogging, keep increasing the speed until you are all out sprinting for as close to 30 seconds as you can. Note: It is natural to gradually decrease in speed when sprinting for this length of time.
6) Alternate every 1-2 minutes between jogging and sprinting for 20-30 minutes. It is important that you keep the same "light jog" level each time after your sprints. You want to make sure you have ample time to catch your breath and regain enough energy to go as hard as you can for the sprints.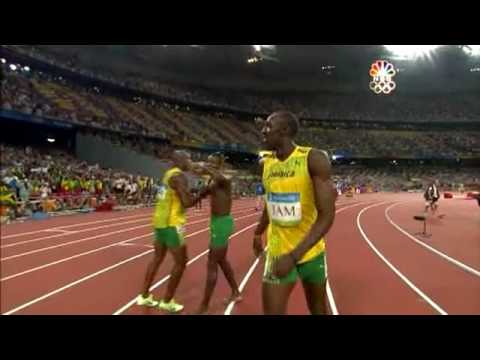 (Simply amazing. It was awesome to watch him on tv during the Olympics.)
HIIT Sprinting Workout Routine Outdoors
If you have the luxury of running outdoors or on a track then this is ideal. I find it much more enjoyable to be able to breathe in some fresh air than to be stuck inside. If you don't have a track then do your best to find some smooth pavement that is around two football fields in length. This is a range of 200-250 yards (220-275 meters). The sprinting intervals will be very close to the treadmill but with some minor tweaks.
1) Warm up with a light jog or brisk walk for 3-5 minutes
2) After your warm up, increase your speed to a faster jog for 1-2 minutes. This is done to "prime" the legs. You can extend the time until you feel comfortable to begin sprinting.
3) The running start: You will transition your jog into a 100 yard sprint for about 10-20 seconds. Note: Gradually jogging into an all out sprint will help reduce the chance of pulling a muscle in the beginning of your workout.
4) Decrease your speed back down to a light jog for 1-2 minutes.
5) Sprint as hard as you can for 30 seconds. Note: Before your sprints, try to aim for a 5-7 second "faster jog" to allow for a smooth transition (the running start).
6) You will alternate sprinting and jogging for 15-20 minutes.
Note: Sprinting intervals are tough. It is natural for you to be out of breath after the first 10 seconds of sprinting. You will also begin to decrease in speed very quickly. Just keep working at it and you will eventually be able to sprint for much longer durations.
Steady State Cardio For Additional Fat Loss
The only time I recommend steady state cardio is when it is supplemented after some form of high intensity intervals. The moment your sprinting workout routine is complete, jogging for 10-20 minutes for a light to moderate pace will really help burn off that last bit of stubborn body fat.
Some Final Thoughts
Sprinting workouts like this should be done 3-4 times a week. Implementing intense cardio will transform your body in more ways than you can imagine. It boosts whole body fat loss while giving you a toned butt and thighs. This is why a sprinters body has the complete package.
Note: I highly recommend going into each workout on an empty stomach and waiting at least 1 hour afterwards to eat. This will maximize HGH release.